Welcome to a new union catalogue of sixteenth-, seventeenth-, and eighteenth-century correspondence, now in public beta!
---
Created by the Cultures of Knowledge Project with generous funding from The Andrew W. Mellon Foundation, Early Modern Letters Online — EMLO — is a combined finding aid and editorial interface for basic descriptions of early modern correspondence. This public prototype combines calendars of eight contributing collections. However, with the continuing addition of metadata on letters — manuscript, printed, and digital — by other individuals, projects, and repositories, EMLO aims to become the first freely available union catalogue of these often elusive documents. Search or Browse our existing collections, and find out how you can Contribute...
Letters in Focus

Letters in Focus: Things That Go Bump in the Night
So, the evenings draw in, All Hallows' Eve is upon us, and I find myself creeping through autumnal mists to the Bodleian's Special Collections in search of ghosts.
( 29 October 2012 )
Catalogue News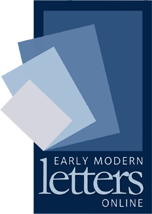 Cultures of Knowledge Receives Further Grant
We are delighted to report that Cultures of Knowledge has been awarded a further grant of $758,000 from the Scholarly Communications and Information Technology program of The Andrew W. Mellon Foundation, for the period from 1 January 2013 to 31 December 2014.
( 14 September 2012 )